Christmas Decorating Ideas for Offices
November 16, 2018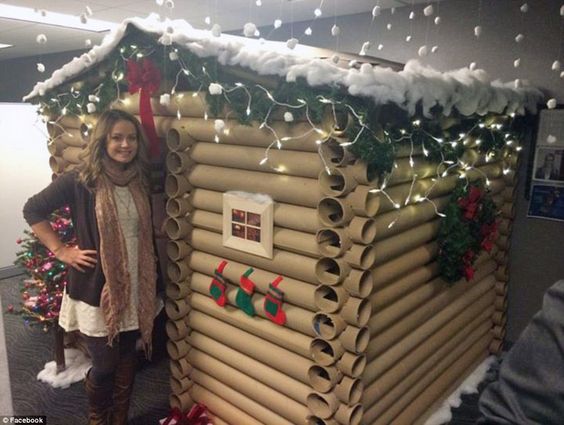 Christmas Decorating Ideas for Offices. Decorate your desk, cubicle, office door, pictures and more ideas.
Use wrapping paper, light sets, stockings, fake snow and more. Be creative and see if you can challenge yourself to take your office decorating to the next level this year!
Angela Westfield spent 18 hours building a log cabin out of cardboard carpet rolls at her office at the W Minneapolis hotel in Minnesota. When she was done, she probably had the most festive cubicle in the country, decked out with fake snow, flashing lights and an alpine garland.
The awesome structure, more 6 ft high, features a walk-through door, a snow-covered roof and an alpine garland, which is all topped with flashing fairy lights. Red and green stockings hang from the exterior.
One of Angela's co-worker, Matt, told CNN that he "uttered a swear word" the first time he laid eyes on her unrecognizably transformed cubicle. Angela herself hopes that her hard work will help her take the first place at her office's annual cubicle decorating contest.
Angela began building her festive cubicle in the garage at her home with some help from her husband, Alex. Each of the tubes, bought at a local DIY store, were trimmed to the precise length before being glued together.
Angela even added a window in her log cabin to allow her boss to check up on her.
This one will take more planning and time….Log Cabin look is very creative!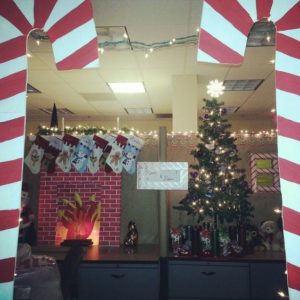 Toyland, Candy Canes, Artificial fireplaces and more! Do you have the creative itch to take it to the next level?
Sometimes all it takes is a strand (or, many strands) of lights to get in the holiday spirit. Your boss may not love the electric bill, but your coworkers will sure love the display.