13 Ridiculously Smart Home Office Desk Organization Ideas
July 11, 2018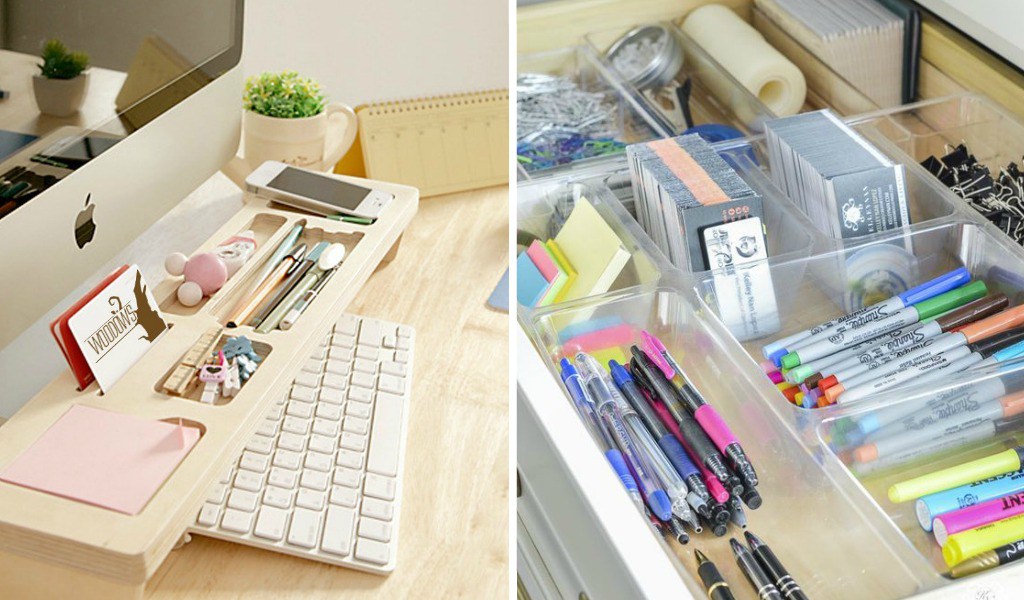 When you have a job working at home and spend most of the time staying in your home office, you definitely want it to be as organized as it can. Here are some smart home office desk organization ideas.
Having your home office desk organized well will help you to do a great job eventually. You can find anything you want without having to rampage your desk, looking for that one document you need.
Here are some smart home office desk organization ideas I found on the internet and probably could cluttered-free your office.
#1 Shelf to put your monitor on
Having a shelf will save up some space on your desk, you can also put some box on the shelves for more organization via Apartment Therapy. You can buy a shelf like this to help you organize more.
#2 Make a chest to store all your important document
This is one smart solution for a cluttered free office desk. You can also make it into a couch that you can sit on via Martha Stewart.
#3 Rolling Cart
Don't have a big table that corporate office have? Get organized with these rolling cart and store your office supplies via Clean and Scentsibles.
#4 Under the desk
I know how you feel when you see all those cables tangling and hanging around. This is a real eyesore for us to see. How about if you can organize it under your table? via Flikr.
One thing you can add that will complete the cable organization is to label it with bread tag via Pop Sugar (picture on the top) or you can tape it with writeable washi tape via The Chic Site (picture on the bottom).
#5 Label every document
I always love labelling documents to keep it separate from the others especially important documents. You don't need to look everywhere to find that one document anymore with these label idea via A Bowl Full of Lemons.
#6 Having a charging station
This idea will help you organize your electronic device in one place and help to clear some space for other stuff on your desk via Driven By Decor.
#7 Organize receipts with jar and pocket file
I really love the idea from Kalyn Brooke on organizing receipts. You can use a jar and label it with washi tapefor a specific use such as business receipts only or you can have a pocket file. Using a pocket file is very efficient especially when you are on the road all the time, you can carry it in your bag and that's it! It will keep your bag cluttered-free and all the receipts well organized!
#8 Use a plastic container to organize your desk drawer
This is a smart idea to keep your drawer organize via Kelley Nan. You can buy a similar one here.
#9 Use a paper clip to organize phone cables
Another way where you can organize your phone cables is with paper clips! via Little White Whale.
#10 Use a rack
Do you have a bigger computer? You can use this rack to help you organize instead rather than a shelf.
#11 Use a desk organizer
Organize what's on top of your desk with this acrylic desk organizer. You can put important documents here and all the essential office supplies plus you can easily find everything in this organizer because it's clear acrylic!
#12 Use a frame as a to-do list board
You can make this DIY Erase board by yourself to help you be more productive for the day! What you need is simple. A frame and paper with a cute pattern and voila! via Little Birdie Secrets.
#13 Make a paper pocket or stick a command hooks
This is exactly what I did to my TV in the living room. Unused cable can be organized with a DIY paper pocket or just stick a command hook, fold your cables and hang it on the command hook via justimagine-ddoc.com.