10 Desk Organization Ideas That'll Make Doing Work Less of a Chore
February 28, 2020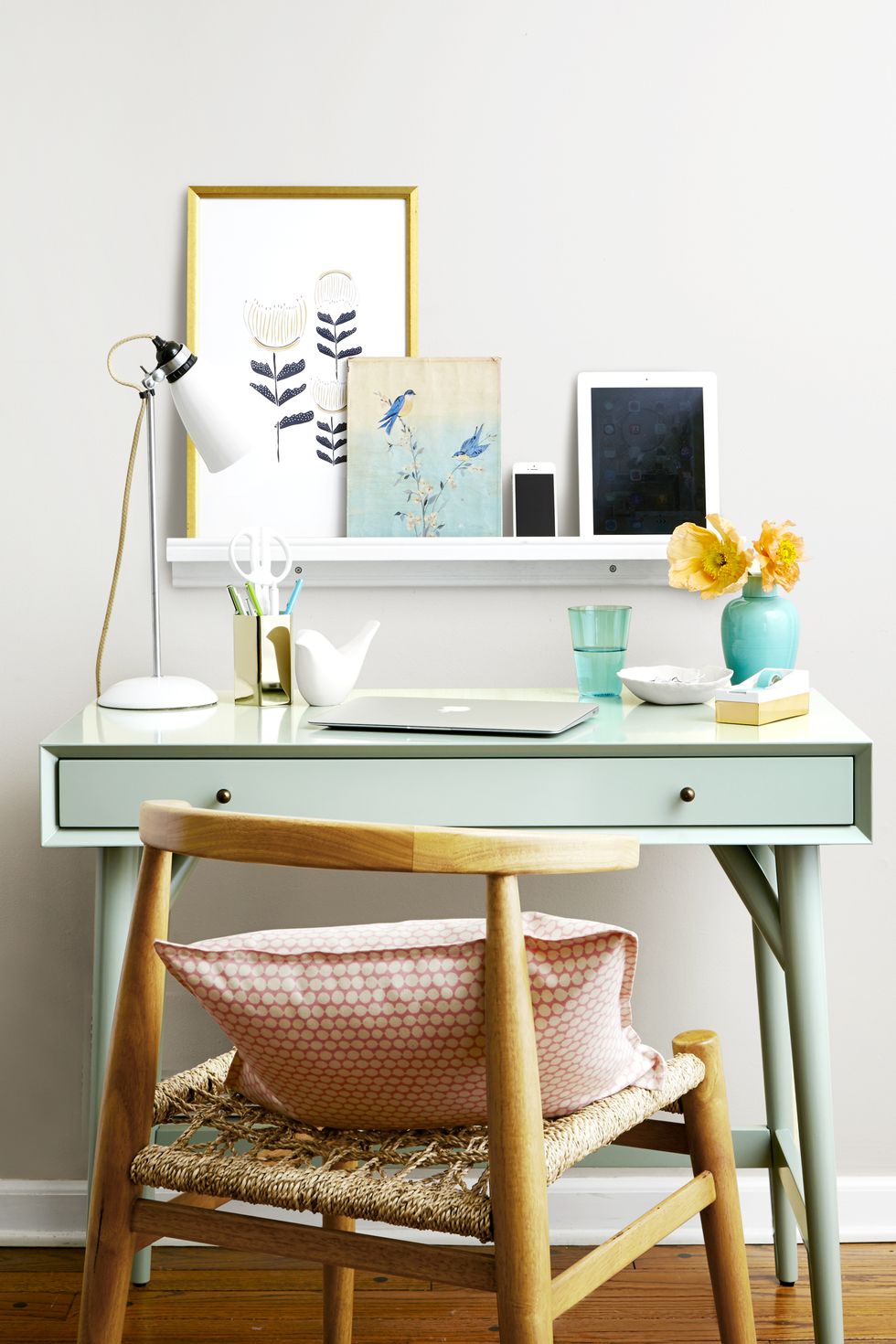 Inspire productivity in your office with these DIY storage solutions.
For most people, a cluttered workspace makes for a cluttered mind. Not only will having an organized desk look more inviting, but it'll motivate you to get to work, especially since you won't have to clear paper piles and junk out of your way to make it happen. Browse through these super-smart desk organization ideas to find simple yet highly effective ways to tidy up your space, whether it's in your home office or at your 9 to 5. With pegboard walls, DIY organizers, and color-coordinated dividers, you can give all of your office supplies, documents, and planning materials a designated spot. That means you'll know exactly where to look when you need something, and you won't have to rummage through cluttered drawers along the way. As a result, you'll have a stress-free space that lets you focus on what's really important: taking care of business.
1. Hang a Shelf Over Your Desk
Expand your work space with just a few taps of a hammer, making room to store extra tech items or books. It's also a clever way to display artwork; you can easily swap in new frames or layer pieces that you love.
2. Create an Organization Station
Make sure you have enough space on the top of your desk to read, write, and work by hanging organizers straight to your wall. Attach a cork board to keep your calendar, schedule, or to-do list in clear view, and fill mason jars with all of your office supplies.
3. Mix Supplies With Decor
With a pegboard backdrop, you can customize your office to store supplies, hang decorations, or a mix of both. But if you want to make the most out of your space, attach wire baskets, shelves, and cup holders before you go all out with decor.
4. Keep Your To-Do List Handy
If you're still a fan of pen and paper, make sure you never run out of writing room by attaching peel-and-stick chalkboard tape straight to your desk. That way you can jot down notes with a chalkboard pen and then wipe 'em away when you have new ideas.
5. Arrange Supplies by Color
Keeping function and style in mind, color-coordinate your office and craft supplies in clear jars and matching bins. Take advantage of free wall space by sticking them on lined shelves rather than using up prime desk space.
6. Fill a Small Storage Caddy
If you opt for a modern desk design, stick a complementary storage caddy near one of the desk's legs to hold all of your work must-haves.
7. Push Accessories Off to One Side
Every desk needs a lamp, a pencil cup, and a knickknack or two, but keeping everything strewn across your desktop makes it difficult to get to work. Make sure there's a clear space to keep your computer and plenty of empty desk space to write and spread out.
8.  Stick to a "One In, One Out" Rule
Follow Marie Kondo's lead and only hang on to things that spark joy to prevent your desk from becoming the catch-all spot in your house.
9.  Use Drawer Dividers
Conquer your desk drawer junk with an assortment of acrylic organizers. Keep sticky notes, business cards, and flash drives in their own compartments to easily grab and go.
10. Optimize Your Storage Space
Don't just rely on your desk itself to keep your home office organized. Nearby cubbies, hooks, and baskets can keep the clutter off your desk so you have plenty of room to work.
| | |
| --- | --- |
| | |