14 Ideas to Transform Your Waiting Room
October 11, 2019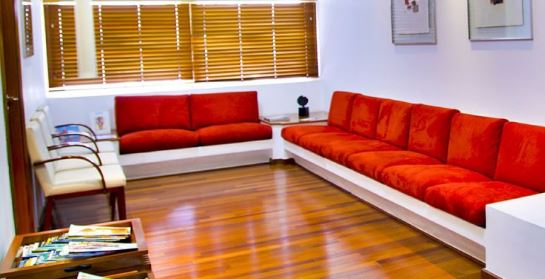 Waiting rooms are a major pain point in the patient experience.
Emotions – anxiety, fear, confusion, frustration, annoyance – are running high. When you combine that with uncomfortable seating, stacks of old magazines, and overcrowding, it's no wonder people dread going to the clinic. But help is on the way. Here are several ways to turn passive waiting into active care, wasted time into opportunity.
1. Create a Waiting Room Concierge
As part of our Cultivate Fund, West County Health Centers successfully piloted a new staff role to assist and engage patients: the waiting room concierge. Unlike front desk staff, concierges place themselves in the waiting room with patients, greeting new patients when they arrive and answering questions. Concierges help patients check in. And, recapturing wasted downtime in the waiting room, the concierges assist with agenda-setting by asking patients what they are hoping to discuss during their visit; this helps providers to prioritize and make the best use of their time with the patient, and it allows the medical assistant to focus on their critical tasks.
La Maestra Family Clinic, through our Reimagined Care Challenge, put a different spin on the concierge role by focusing on raising awareness about the clinic's non-medical, social services. Concierges greet people waiting for their appointments, asking them if they're interested in enrolling in La Maestra's programming in yoga, art, financial literacy, youth afterschool activities, legal advocacy services, and more. If the answer is "yes," the concierge is ready with flyers, contact information, and a sign-up sheet to receive more details.
"I do not feel as hectic when I start my work shift," said Nageli Luna, La Maestra's lead patient service representative. "Previously, there would always be a line of patients waiting to ask how long they had to wait. Now with this information provided, the whole waiting room is much calmer and this helps the staff to deliver better care for the patients."
2. Offer Nutritious Snacks
For many patients living in poor and rural areas, access to fresh fruits and vegetables is scarce. Open Door Community Health Centers tackles this problem directly by growing its own food. Clinics display baskets of garden-grown produce in waiting rooms, labeled with a sign that says "help yourself." Care teams are trained to look for signs that patients haven't had enough to eat and then offer a snack. The staff also encourage patients to take home a bag of food.
3. Hang Artwork
Art calms and soothes. Multiple studies confirm that patients prefer landscapes and nature scenes, compared to abstract paintings and portraits. In fact, some research says "chaotic abstract art" can actually increase patients' stress.
4. Install Check-In Kiosks
Self-serve kiosks are everywhere – airports, hotels, grocery stores, restaurants, banks, movie theaters. Now safety-net providers are installing them to help patients "check in" at waiting rooms across the country.
For a small investment, these kiosks are helping speed patient registration, copayment collection, language translation, and the signing of consent forms. At the same time, pilots have demonstrated that kiosks can boost patient satisfaction by reducing waiting times, offering greater convenience, and creating more privacy.
Petaluma Health Center, as part of its Cultivate Fund project, took their iPad kiosk to the next level by collecting social determinants of health (SDOH) data. After patients check in for their appointments, they're asked a series of questions about their food security, housing, income and other factors outside the walls of the clinic.
Shasta Health Center piloted the Seamless Patient Platform to streamline their check-in process and improve their data quality. "Replacing paper with an iPad eliminates the use of thousands of sheets of paper and reduces one's carbon footprint. It also eliminates time-consuming, paper-related tasks such as data entry, scanning documents, shredding paper, and managing paper files," said David Perez, CEO of Seamless Medical Systems, which counts the CHCF Health Innovation Fund as an investor. "These efficiencies allow practices to focus on providing customer service and clinical care, as opposed to paperwork."
5. Cluster Your Chairs
Seating density matters, says Steelcase, the leading manufacturer of furniture for hospitals. The furniture company's researchers partnered with a major academic medical center in the southeastern United States to better understand the problems with waiting rooms. It discovered that 20 percent of occupied chairs held personal items or drinks.
By creating small group seating and providing storage, the medical center actually needed fewer seats. "This isn't about packing the most people in the waiting room," said Michelle Ossmann, director of health environments for Steelcase Health. "Simply giving people some additional physical space also gives them additional emotional space."
6. Add a Children's Play Area
Research shows that children's play areas help reduce waiting room anxiety. Hard toys are easier to clean and disinfect than soft toys.
7. Distribute Pagers
Inspired by Applebee's, West County Health Centers started handing out pagers in its waiting rooms. Patients can go for a walk outside and even grab a cup of coffee down the street. When it's time for their appointment, West County will give them a buzz.
8. Introduce Your Care Team
Hospitalized patients often see a revolving door of doctors, nurses, specialists, and technicians. Families of patients have trouble keeping track of all these new faces, and it's difficult to comprehend how all these medical professionals are working together.
Innovators at Boston Children's Hospital tackled this problem by developing an iPad app that helps families get acquainted with care team members. The app displays photographs and titles for each assigned staffer, alongside the patient's treatment plan and lab results. In the pilot, users reported "better understanding and fewer instances of miscommunication."
9. Text Updates
When a loved one is undergoing testing or surgery, waiting for status updates is a nerve-racking experience. Children's National Medical Center set out to close the communication gap by deploying a HIPPA-compliant text messaging service. The patient's family provides cell phone numbers in advance, and hospital staff use the service to send generic, prewritten messages like, "Patient is now in surgery." Not only does it relieve stress, it helps people feel more comfortable about leaving the waiting room.
10. Tear Down Walls
Golden Valley Health Centers recognized that "physical barriers create emotional barriers." So it knocked down the walls and glass that sequestered its front desk receptionists. The results were dramatic: Frequency of patients being welcome with eye contact, a smile, and a greeting increased from around 15 percent to 100 percent. Patient satisfaction scores shot up too.
11. Educate Patients
Waiting room education has also been linked to increased patient satisfaction. For example, in one ambulatory care clinic, patients who watched an educational video about glaucoma and chatted with a staff nurse while waiting for their doctor were happier than patients following a typical care routine.
12. Display Wait Times
Fuelfor, a Spanish design consultancy, recommends featuring wait-time displays prominently in multiple places, not just over the front desk. And, for people who don't want to hang around the waiting area, create an app that keeps track of their position in the queue.
13. Clean Up
Cleanliness is another factor associated with higher patient satisfaction. In fact, attractive and cheerful waiting rooms reduce anxiety, create a better perception of the quality of care, and convince patients that they've waited a shorter amount of time.
14. Provide Free Wi-Fi and Charging Stations
Free Wi-Fi is everywhere. Why should your clinic be a dead zone? Help make your space work and homework friendly.