Properly Place Hardware and Peripherals
June 8, 2018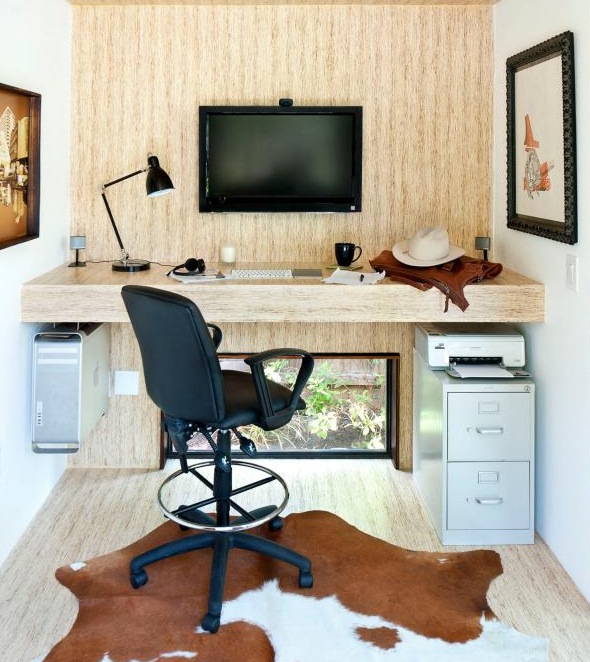 When setting up hardware, be conscious of access to drives, trays and cords. Don't block access to drawers or take up leg room with tangled cords.
Conceal Cables and Wires
Professional organizer Tom Nevermann, The Moving Doctor, shares seven tips for containing unruly wires and caring for media and computer equipment.
Fold mailing labels back on themselves around each cord and label the wire. Don't forget to label the cords that connect different components to each other, as well as the cord to the electric supply.
Bundle like wires together to cut down on cord clutter. For example, keep computer speaker wires with stereo speaker wires.
Use a surge protector for all delicate electronic equipment. Check the back to make sure it's UL listed and is a transient voltage surge protector. High-end protectors are built with replaceable fuses and will last longer than less-expensive models that might not work after a large surge.
Used fabric softener sheets are the perfect lint and static-free rags for cleaning CDs and DVDs. Handle CDs by the rim to cut down on fingerprints. The backside of the CD carries the information and is the side that needs cleaning. Use the dryer sheet and stroke out to the edge from the center of the CD, instead of a circular motion.
Stacking equipment makes the most efficient use of space in a media center or office space. Be careful not to stack any equipment with venting on the top (such as amps or satellite receivers) because they might get too warm. Use chair-leg protectors (small plastic cups) as spacers between these pieces of equipment when stacking.
To clean a TV screen, use a lint-free cloth such as an old T-shirt. Spray the cloth with water (instead of spritzing the set itself) and wipe clean. Never use an abrasive substance on the screen. Never use window cleaner to clean a computer screen; stick to a lint-free cloth and consult with your monitor's manual for the proper way to clean it.Article Source